TALK TO OUR EXPERTS
Schedule a free call anytime convenient for you. Allow our experts and your personal concierge to assist you in your journey to an amazing summer.
                    AN AUTHENTIC SWISS EXPERIENCE:
                            One of Europe's Best Summer Camps in Switzerland!
Expert trainers and mountain guides
The programme is offered by our diverse team of senior trainers and mountain guides. They have both the passion for and experience working with students from around the world and are eager to share their knowledge and expertise with them. We pride ourselves that our team is comprised of non-seasonal workers; all trainers are engaged with our various camps throughout the year.
A programme like no other
Our camp offers students the possibility to get out of their comfort zone, explore new domains, explore wide range of experiences, identify what they wish to focus on improving from our leadership modules, and work towards their goals. Additionally, students are immersed in our SILC Family where they make new friends for life. The familial environment is further strengthened by the diverse programme that we have prepared.
THE CAMP
Every summer, hundreds of students come together and join our various day and boarding summer camps in Switzerland and France. Our Gstaad Summer Leadership Camp in Switzerland is the product of many years of consideration and experience in delivering excellent leadership and personal development programmes to students from all over the world. Throughout the camp, students will tap into various domains of their personal growth such as communication, goal setting, prioritisation, teamwork and more.
Our surrounded-by-nature campus is located in Château-d'Oex – a picturesque town in the Gstaad Valley, and promises the true feel of a summer camp. Students are immersed in our private domain in the midst of the Swiss Alps. Bus rides are minimised so that our students can spend more time enjoying the most spectacular activities. We are simply a step away from the best summer camp activities one could wish for.
Students enjoy thrilling outdoor activities like canyoning, river rafting, rock climbing or via ferrata while developing their leadership skills such as communication, time management and collaboration and discovering the most stunning places in Switzerland, from the Gstaad Valley to Montreux, Interlaken and all the way up to the glaciers!
The participants will also finish camp with a course completion certificate and an overview Personal Action Plan, including all 21st Century competencies and skills learned. Many of our alumni see this as a valuable tool for future development and a great way to show mentors at school, friends or anyone else what they have learned.
In short, this is an ideal leadership camp for the youth of today that require a polished approach to education with our learning by doing concept. All this amounts to a unique experience that is very fun, meaningful and truly memorable. Check out our camp video below!
A breathtaking 2-week programme
The Gstaad Summer Leadership Camp offers a well-balanced programme where children are engaged with outstanding activities from morning till evening. Our programme, designed having in mind the utmost attention to the promised Swiss quality, incorporates workshops from our Leadership Modules focusing on various mediums such as optimising, communicating, global citizenship, goal setting, teamwork, and exploring the limits of one's comfort zone, and the most exciting activities such as a Glacier Expedition, Surfing, Excursions, Bridge Swing and more. Explore below!
Click on the weekly programme below to view it in fullscreen.
Dates
July 23rd-August 5th 2023: Limited places!
Ages
We welcome participants aged 11 to 17.
Arrival & Departure
We pick students up and drop them off at Geneva International Airport or Geneva Train Station upon arrival and departure. Alternatively, we can welcome students directly at our campus.
Food for all diets
We have a top chef who serves European and international dishes made from fresh ingredients. Salads, vegetables and fruits are always available, and vegetarian, religious, medical and any other special diets can also be catered for.
All-inclusive Fee
All-inclusive fee per student: 5,300.- Swiss francs
Mandatory insurance fee: 200.- Swiss francs
The fee is all inclusive and covers the entire camp programme packed with activities, as well as pick up from and drop off at Geneva International Airport or Geneva Train Station during regular pick-up/drop-off times* if required.
Language at camp
The main language during camp is English and a basic day-to-day understanding of English is sufficient. Students will improve their language skills throughout camp in a natural way interacting with our SILC Team and their peers.
*Please note that if pick-up/drop-off is not possible during regular pick-up/drop-off times (10:00AM-3:00PM), the extra charge for a pick-up/drop-off is 300.- Swiss francs per direction. 
Typical day at camp
Example of a typical day
07h30-08h00 Wake-up
08h00-08h30 Breakfast
08h45-09h00 Morning assembly
09h00-09h15 Learning about connecting with others and types of communication we can use
09h00-12h30 High Ropes Course or Bushcraft & Forest Games
12h30-13h30 Lunch
13h30-17h30 Canyoning Adventure or Mountain Biking
17h30-18h30 Leisure time
18h30-19h30 Dinner
19h30-21h30 Go-Karting or Scavenger Hunt

This is just an example of a day. Our camp includes many activities that are aligned with all leadership modules and workshops. All activities are closely aligned with the leadership learning experience.
Activities throughout camp include
Glacier expedition and overnight stay at our mountain base
Ice climbing
Nature & Mountain Hike including a first aid training in the Swiss mountains
Rock Climbing
High Ropes Course
Canyoning
The Boat Game: Build a boat with your team and set sail!
Bushcraft
Mountain Biking
Surfing
Karting
Dance workshop
Fun excursions to various spectacular places
And more…
Gstaad Summer Leadership Camp
Get in touch for more information
A campus in the midst of nature nestled between a beautiful valley, traditional villages and the Swiss Alps
Our campus is located in the picturesque village of Château d'Oex that presents an array of exciting experiences. The region's charm stems from the mountain views and the traditional Swiss chalets that add to the special atmosphere that the surroundings provide. Nestled between the sophisticated town of Gstaad and renowned for its famous cheese – Gruyères, some of the most stunning places await students to explore, cherish and embrace.
OVERVIEW
Traditional Swiss chalet accommodation.
High standard accommodation in a luxury boarding house.
All rooms have en-suite bathrooms.
Boys and girls are separated by floors.
Healthy, fresh and great meals for all possible diets.
Beautiful private mountain campus in a safe and quiet setting
Spacious dining room and a large terrace overlooking the Gstaad Valley.
Dedicated conference room for indoor games and workshops.
2 purpose designed pitches for sports games.
Facilities
Students are accommodated with the utmost attention to detail and comfort in our traditional and comfortable Swiss chalet-style boarding house. Each room is shared with only one or two other students and possibilities to have friends or relatives share the same room are available. Care is taken to house students with those from other nationalities, languages, and backgrounds to enhance the international experience.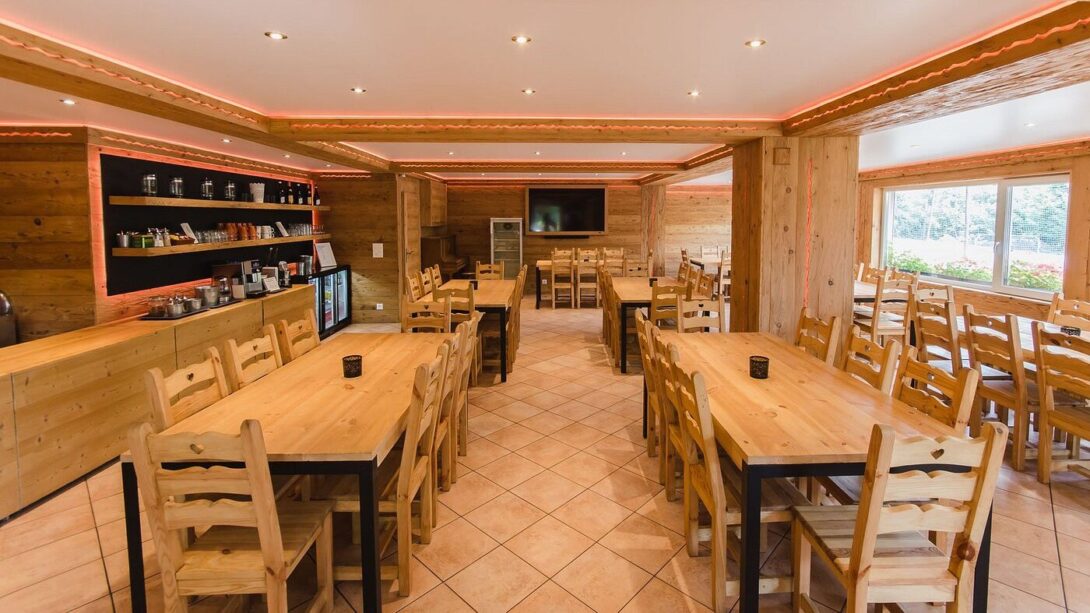 Organisation & Safety
Our experienced and international team has all the expertise required to manage the camp with great care, passion, attention for detail, operational excellence and safety.
We are dedicated to upholding the highest standards for creating a wonderful learning experience and looking after the health, safety and well-being of our students. We give all the support needed to ensure students are safe, enjoy their time and perform to the best of their abilities.
Covid-free group and guaranteed travel
We have been operating programmes under Covid-19 since March 2020, going above and beyond national and international Covid-19 Protection guidelines.
Thanks to our high health and safety standards designed in cooperation with some of the leading international schools in the world, we have kept everyone safe and none of our students, camp staff or external providers have shown any symptom of the virus.
Our team is well experienced in implementing all protection measures and is ideally placed to secure the health of our students.
Our Gstaad Summer Leadership Camp is run as a small social bubble with all students and staff tested for Covid-19 prior to the trip, ensuring everyone's safety.
Reserve without risk: no deposits and full refunds
Secure your child's place now without worrying about any financial impact as we do not ask for deposits and offer a full refund before the start of camp!
To assist you to the best of our abilities, we offer full refund in case:
1. Your child is unable to travel to Switzerland due to a positive Covid-19 test (an official medical proof will be required).
2. Cancellation until 15th May 2023.
In the following case, SILC Academy will provide a partial refund:
1. Cancellation from 15th May 2023 until June 1st: 80% refund on the total camp fee
2. Cancellation from 1st June 2023 onwards: 50% refund on the total camp fee
No refund is made for cancellations as of 15th June 2023, inability to obtain an entry visa for Switzerland, a shortened stay, missed activities or workshops, withdrawal or dismissal during the camp, and in case of force majeure circumstances such as events/occurrences that are out of the control of SILC Academy such as, but not limited to, natural disasters, pandemics, airport strikes, accidents, technical difficulties, conflicts, fire, and bad weather conditions.
Gstaad Summer Leadership Camp in Switzerland
Register to unleash an unforgettable summer experience in the midst of the spectacular Swiss Alps. Limited places left!